Employment Opportunities
BUSINESS MANAGER (Year Round)
BOX OFFICE STAFF – PART-TIME (Seasonal)
Northern Sky Internships
Summer Internships – mid-May thru August
Northern Sky interns work with our Production Stage Manager throughout the rehearsal period, assisting in all areas of the theater: costumes, props, set-up, takedown, clean-up, attending rehearsals, helping with computer reports, prompting, etc. If you are a performer, you may be assigned to an understudy position. There are sometimes roles available as well, and interns will be given a chance to audition. We try to fit you with the areas in which you're most interested. Interns assist with PR if time permits.
The rehearsal period is pretty intense, with long hours and late nights at the park. Sometimes the weather in outdoor theatre can be pretty challenging when trying to get enough tech hours in and everyone has to be very flexible and good-humored.
Once the shows are open, you'd be part of the backstage and run crew. Interns assist our wonderful volunteers with parking on a rotational basis. They are part of the set-up and strike crew, responsible for dressing room and costume maintenance. This all becomes routine by the time all the shows are open.
We ask all interns to participate in workshops and educational outreach. We also have interns participate in the 4th of July parades. I encourage interns to audition for extra events that we hold, including our main fundraiser Raise the Curtain. and the end of season Volunteer Appreciation Picnic.
Interns will also be on call for the fall show rehearsals starting in August during the day. Some office work will also be part of the job responsibilities. There are also weekly scheduled brush up rehearsals for anyone understudying or performing during the summer or fall.
We provide housing and pay a weekly stipend. You would need your own car. At the Park Theater, we do eight shows a week, with two on Mondays and Thursdays. A meal is provided between shows on those days. Sunday is the day off. Your summer contract dates would be mid-May – end of August. It is also possible to be considered for an internship through the fall, which will run until the end of October.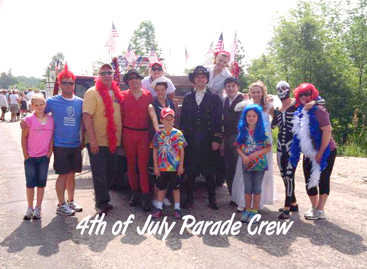 Many of the interns who have been at Northern Sky request to come back, and some have gone on to other positions in our company. The Northern Sky intern experience is challenging in a good way and the people you will get to work and play with are a great bunch of professionals who really respect the interns' contributions and importance to Northern Sky.
Please contact Jeff at jeff@northernskytheater.com to apply or for more information.