Employment Opportunities
Northern Sky Theater will provide a positive, respectful, and nurturing work environment for all employees and guest artists that allows everyone to work to their full potential. We will conduct ourselves with integrity in all interactions representing Northern Sky Theater.
We acknowledge the systemic racism in our community and industry and commit to anti-racist policies, practices and learning in all areas of our work, and to create a safe, supported and empowered environment for all our colleagues who are Black, Indigenous, or People of Color.
Beginning June 5, 2021, all Northern Sky artistic, production and administrative staff are required to be vaccinated against Covid-19. Full vaccination against the virus will be considered a condition of hiring and/or continued employment. Employees and scheduled volunteers of Northern Sky Theater are required to complete COVID‐19 screening the week prior to work. This includes furnishing proof of completed vaccination, as well as answering several screening questions related to employee's current health status and recent travel and having the individual's temperature checked. Beginning June 5, 2021 and until further notice, an FDA authorized antigen or molecular (PCR) test will be administered once a week to all salaried employees and any independent contractors that have interaction with salaried employees. These employees must receive a negative FDA authorized antigen or molecular test 72 hours prior to the start of work. Testing for these employees will continue on a weekly basis throughout employment. Test results should be received no later than 48 hours after administration.
HOUSE MANAGER ASSISTANT (Seasonal)
TICKET OFFICE STAFF – PART-TIME (Seasonal)
Want to join the Northern Sky team? We're seeking to add several customer service workers to our ticket office staff this summer and fall season.
Afternoon and evening shifts are available at both the Northern Sky Creative Center in Fish Creek and the Amphitheater in Peninsula State Park.
Positions vary: 15-30 hours per week. $16.50 per hour.
You'll be providing patrons with a positive first impression of Northern Sky Theater, giving them accurate performance information and helping them to purchase show tickets.
If you have these four skill sets, we can teach you the rest…
• Excellent customer service skills.
• Ability to work accurately in a fast-paced environment.
• Detail oriented.
• Comfortable and capable with computers, credit card machines, and calculators.
If you're interested, please send your resume or a summary of your work history and job skills to our Ticket Office Manager, Becky DeLisle at becky@northernskytheater.com.
High school or college students welcome!
Northern Sky Production/Acting Internships
Summer Internships – mid-May thru August
Northern Sky interns work with our Production Stage Manager throughout the rehearsal period, assisting in all areas of the theater: costumes, props, set-up, takedown, clean-up, attending rehearsals, helping with computer reports, prompting, etc. If you are a performer, you may be assigned to an understudy position. There are sometimes roles available as well, and interns will be given a chance to audition, if appropriate. We try to fit you with the areas in which you're most interested. Interns assist with PR if time permits.
The rehearsal period is pretty intense, with long hours and late nights at the park and in the Gould (our indoor theater). Sometimes the weather in outdoor theatre can be pretty challenging when trying to get enough tech hours in and everyone has to be very flexible and good-humored.
Once the shows are open, you'd be part of the backstage and run crew either at the park or in the Gould. Interns may assist our wonderful volunteers with parking on a rotational basis. They are part of the set-up and strike crew, responsible for dressing room and costume maintenance. This all becomes routine by the time all the shows are open. 
Interns will also be on call for the fall show rehearsals starting in August during the day. There are also weekly scheduled brush up rehearsals for anyone understudying or performing during the summer or fall.
We provide housing and pay a weekly stipend of $300. You would need your own car. We do six shows a week in the park, Monday to Saturday. We do seven shows a week in the Gould, Monday to Saturday with an added matinee on Saturday. Sunday is the day off. Your contract dates would be May 15-August 28, 2022.
Many of the interns who have been at Northern request to come back, and some have gone on to other positions in our company. The Northern Sky intern experience is challenging in a good way, and the people you will get to work and play with are a great bunch of professionals who really respect the interns' contributions and importance to the theater.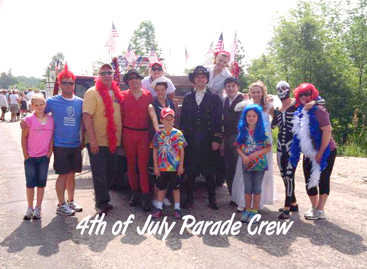 Please contact Jeff at jeff@northernskytheater.com to apply or for more information.