WHAT IS NORTHERN SKY THEATER?
Northern Sky Theater is a non-profit (501c3) professional theater company. Northern Sky's mission is to create, develop, and present professional musical and dramatic productions which will further the knowledge and appreciation of the culture and heritage of the United States. We create all original musical shows. Everything you see on our stage has been created specifically for Northern Sky audiences. Shows are performed here before being seen anywhere else.
WHAT IS THE HISTORY OF NORTHERN SKY? HOW LONG HAS IT BEEN AROUND?
The story begins with a group called "The Heritage Ensemble." Dave Peterson, a professor at the University of Wisconsin – Madison, created this group after discovering a pine-rimmed theater while camping at Peninsula State Park. Feeling the magic in this wooded setting, he assembled a group of singers and musicians to perform on the stage. The Heritage Ensemble would go on to perform on the Peninsula State Park stage for the next 20 years. During these 20 years, the troupe produced and per formed original concerts and reviews covering many aspects of Midwester folklore.
In 1990, long time members of The Heritage Ensemble morphed into American Folklore Theatre when it separated from the university. Over 25 years, AFT evolved from a story-telling concert-centric ensemble to a full-fledged theater organization. Our focus is on the creation and presentation of original full-book musicals appropriate for folks of any age.
In 2015, the name was changed to Northern Sky Theater to reflect the broader scope of the company. Northern Sky continues to provide heartwarming original musicals to delight folks of every age to tens of thousands each summer and fall.
IS NORTHERN SKY A PROFESSIONAL THEATER COMPANY?
Absolutely. Many of our performers are members of the Actors Equity Association (AEA). AEA is a labor union that represents over 45,000 actors and stage managers working across the United States. Northern Sky conducts professional auditions in New York, Chicago, Minneapolis and Wisconsin. Many company members now perform regularly on and off-Broadway and at major regional theaters throughout the country.
WHERE DO NORTHERN SKY THEATER PERFORMANCES TAKE PLACE?
During our summer season, we perform outdoors on Northern Sky's stage at Peninsula State Park in Fish Creek, WI. The amphitheater is not covered – we perform under a canopy of stars. Seating at the amphitheater consists of sturdy wooden benches with backs, and seat cushions are available for rental. During the fall season, Northern Sky heads indoors to perform at its new Creative Center Gould Theater on the corners of County Roads A & F in Fish Creek.
DO I NEED A STATE PARK STICKER TO GET INTO THE PARK FOR A NORTHERN SKY SUMMER PERFORMANCE?
It is not necessary to have a State Park sticker to enter the park to see a Northern Sky summer performance. However, this exemption is applicable only up to one hour prior to performances. If you plan to spend extra time in the park prior to showtime, day park passes cost around $8 for WI state residents and $11 for non-residents.
IS THE AMPHITHEATER DIFFICULT TO GET TO?
Located in Peninsula State Park, there are two entrances – the Fish Creek entrance and the Ephraim entrance. There will be many signs directing you to the amphitheater from both entrances. The parking lot for the amphitheater is actually the overflow parking lot for Nicolet Beach. Once you are parked in the lot, it's only about a three or four minute walk to the amphitheater. Driving Directions…
IS HANDICAP ACCESS AND ACCOMMODATION AVAILABLE?
Summer Amphitheater Location

Handicapped parking and seating is available. Handicapped signs at the amphitheater entrance indicate designated parking areas. To reserve a backstage handicapped parking spot, please contact the Northern Sky office during business hours prior to the show to reserve space.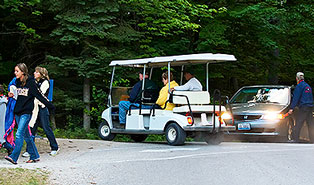 Northern Sky also provides golf cart shuttle transportation from the parking lot to the amphitheater for our patrons who have difficulty walking the distance. Service is available starting 45 minutes prior to showtime, up to 10 minutes prior to showtime. Please meet at the park bench next to the parking lot steps.
Sound enhancement devices are available at the Merchandise Stand to assist hearing impaired individuals. They can be checked out by leaving your driver's license with staff.
Fall & Winter Indoor Locations
The New Creative Center Gould Theater entrance is on County Road A in Fish Creek. The theater is a state of the art comfortable and climate-controlled environment. Handicapped parking and seating is available. Handicapped signs at main entrance near the auditorium indicate designated parking areas. Accessible for wheelchairs.
ARE DOGS ALLOWED AT THE SHOWS?
Yes; we do allow well-behaved dogs on leashes to attend with their family at our Summer State Park Amphitheater Shows Only. We do ask that your party sits on an aisle off the the right or left side and closer to the back. This in just case your furry friend starts "singing along" with the show and you need to make a quick exit (so as not to disturb the other patrons).
Unfortunately, we cannot allow dogs at the new Creative Center Gould Theater nor in our town hall venues unless they are leader dogs.

WHAT IF IT RAINS?
With our summer season being outdoors under the stars, this is our most popular inquiry among frequently asked questions. Rest assured, we have everyone's safety and concerns in mind.
The show will go on if at all possible. Northern Sky staff will wait to decide on cancelling a show until show time, or even a bit after if the weather appears to be passing. If the show is less than half over when called off, you will have the option of either a refund application (to be mailed to our office) or a rain check ticket, which is good for any future Northern Sky performance without expiration. Otherwise guests will be issued rain check tickets only. If you choose not to attend and the show goes on as scheduled, there are no refunds.
IS THERE ANYTHING ELSE THAT I MIGHT NEED TO KNOW ABOUT NORTHERN SKY THEATER SHOWS?
ll Northern Sky shows are appropriate for all ages. The summer shows range in length from one to one and a half hours and are all one-act shows with no intermission. Fall shows run two to two and a half hours and typically have an intermission. Our merchandise stand is filled with Northern Sky apparel, recordings, and other great items – all ready to purchase to take home with you!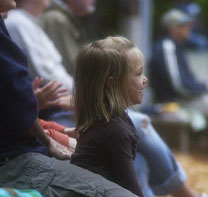 We do offer refreshments for sale at all our summer shows. Inside the amphitheater, you can enjoy your munchies while the performance is happening. You can bring drinks and food with you or purchase them at the Concession Booth. However, alcoholic beverages are not allowed in or around the amphitheater. Also, we ask that you please be mindful of noise, unwrapping all items before the performance begins. Water in a covered bottle is the only beverage/food item currently allowed in the Gould Theater.
IS THERE ANY SPECIAL INFORMATION I NEED TO KNOW IF I AM BRINGING A GROUP TO THE NORTHERN SKY PARK AMPHITHEATER OR THE FALL VENUES?
Please be sure to arrive 30 minutes before show time in order to be seated. You will need to wait in line with your tickets, and please make sure that everyone has a ticket in hand. When you get to the usher who is taking tickets, identify the name of your group and tell him or her that you have group reserved seating. He or she will point you in the direction of the seating usher, who will guide you accordingly. That's all you have to do – other than sit back, relax, and enjoy the show, of course! More Group Info…
Thanks for checking out our frequently asked questions with answers. If you didn't find what you were looking for here, feel free to call us at 920-854-6117 or email info@northernskytheater.com.