Make a Contribution by Mail
Make a Contribution Online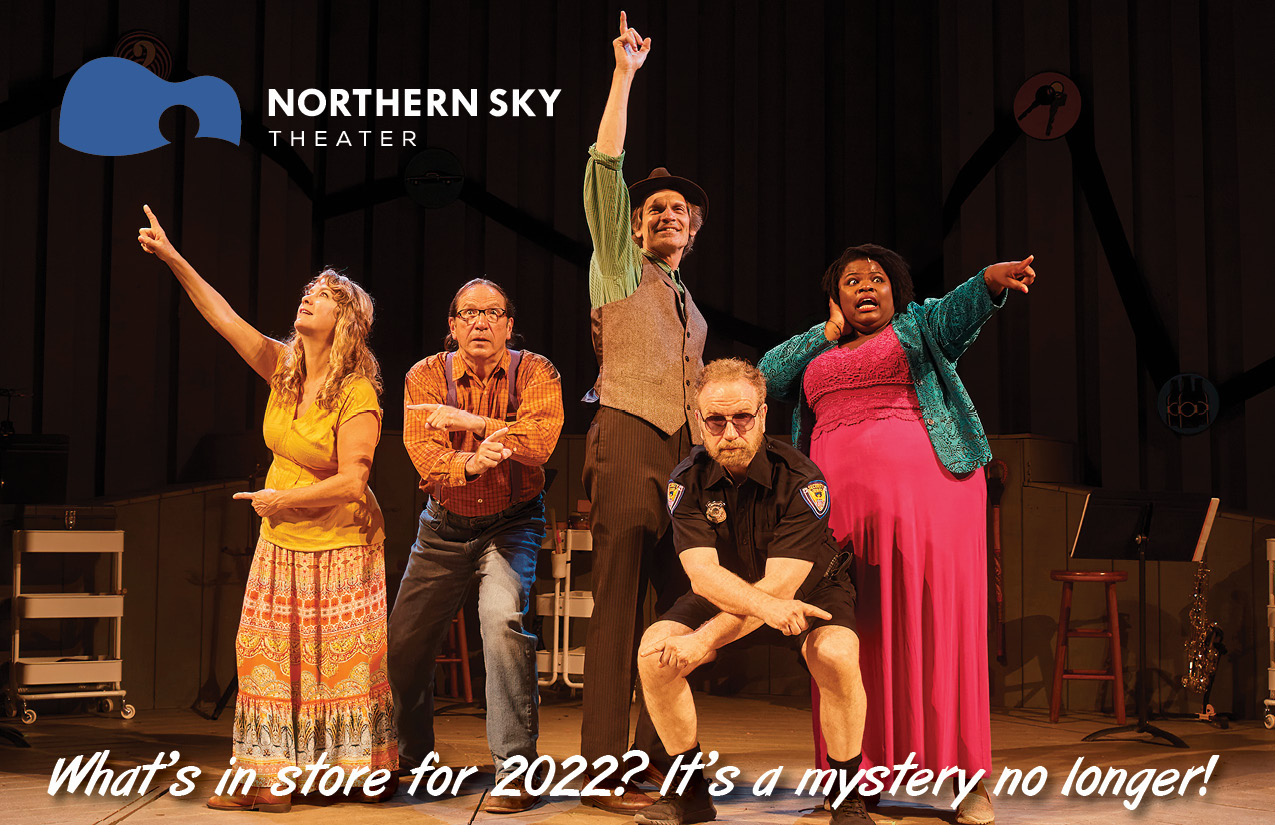 Our 2021 End of Year Letter
Dear Friends,
What a year it's been. And after not being able to perform live at all in 2020 and then roaring back with a five-show season in 2021, we have been asking ourselves: What is Northern Sky? One might simply answer: "A charming theater company that performs outdoors in the park and indoors in the Gould." Right? Yep.
But if that's the answer, then who were we in 2020, when we couldn't perform live at all? During that time of being "shuttered," we created, produced, edited, marketed and offered 58 distinct special events, all done virtually. Every one of them required particular attention, whether it be an archive video offering, a live cabaret, or an episode of The Jeff & Katie Show. So, add to the simple answer: "A charming theater company that gets really creative during a pandemic and goes wild with virtual programming." Right? Yep.
We offered a lot of that programming for free. How did we do it? One year ago, we ignited our Rekindle Campaign to put a safety net in place to ensure that we could make it through 2021 and go into 2022 with confidence. You, our loyal, generous fans, stoked the fire and have gotten us very close to the campaign's goal of $1.75 million.
So we have another addition to our answer: "A charming theater company that recognizes the need to be fiscally responsible and is lucky enough to have wonderful support." Right? Yep.
Then, still in the midst of a pandemic, with uncertainty up until the last moment, we announced a five-show 2021 season, including three brand-new shows. So we can add, "That's crazy!" Right? Yep. And we're not going to stop.
We want to close out the Rekindle Campaign and head into 2022 with spirit and spark. Here's what we've got planned for next year:
At the Park
Love Stings is a world premiere musical comedy by Richard Castle and Matthew Levine. The plot, adapted from a P. G. Wodehouse story, revolves around the idealistic Bill Zapper. While planning a lavish wedding on a 1960s Door County bee farm, Bill begins to wonder if he and his reluctant fiancée are truly right for each other. This honey of a show is sure to be all the buzz.
Fishing for the Moon, which premiered in 1992, was the first collaboration between Fred Alley and James Kaplan, who would go on to write some of Northern Sky's most beloved shows. The show's slightly madcap plot takes place right after the Civil War with delightfully drawn characters and some absurd misunderstandings.
In the Gould
Dad's Season Tickets, by Matt Zembrowski, premiered in 2019 as Northern Sky's first production in the new Gould Theater. In our 28-year history of performing fall shows, this funny, poignant story of one Green Bay family was our biggest hit yet.
Sunflowered, by Lachrisa Grandberry, Aidaa Peerzada, and Alissa Rhode will premiere in the fall. When a young woman faces a life-changing decision, she calls upon her inner circle to gather for an outdoor camping trip. This six-woman ensemble piece bursts with humor and song, joyously exploring the beauty and love found in family and deep friendships.
That means two more world premieres ahead of us. Truly remarkable in light of the ongoing challenges. We still don't really know what to expect for audiences next year, but that isn't what we're focused on. If we've learned anything, it's to keep moving forward and rely on one another, in these still-uncertain times, to continue to define what Northern Sky is.
Please consider making a donation to close out the Rekindle Campaign—a grand finale of fireworks, if you will, to resoundingly usher in 2022.
Then we can all say with confidence that Northern Sky is: "A charming theater company that is resilient and ready for whatever comes next." Right? Yep. Exactly.
SEE YOU UNDER THE STARS,
Jeffrey Herbst, Artistic Director
Dave Maier, Managing Director
Holly Feldman, Director of Development
Board of Directors
Heidi Ling
Chairperson
Thomas A. Moore
Treasurer
Susan Caldwell
Vice Chairperson & Secretary
Mark Breseman
Katie Dahl
Eric DeJardine
Frederick J. Heide
Michael J. McCoy
Christine Saldanha
John Sawyer
Cynthia Stiehl
Mailing Address: 9058 County Road A, Fish Creek, WI 54212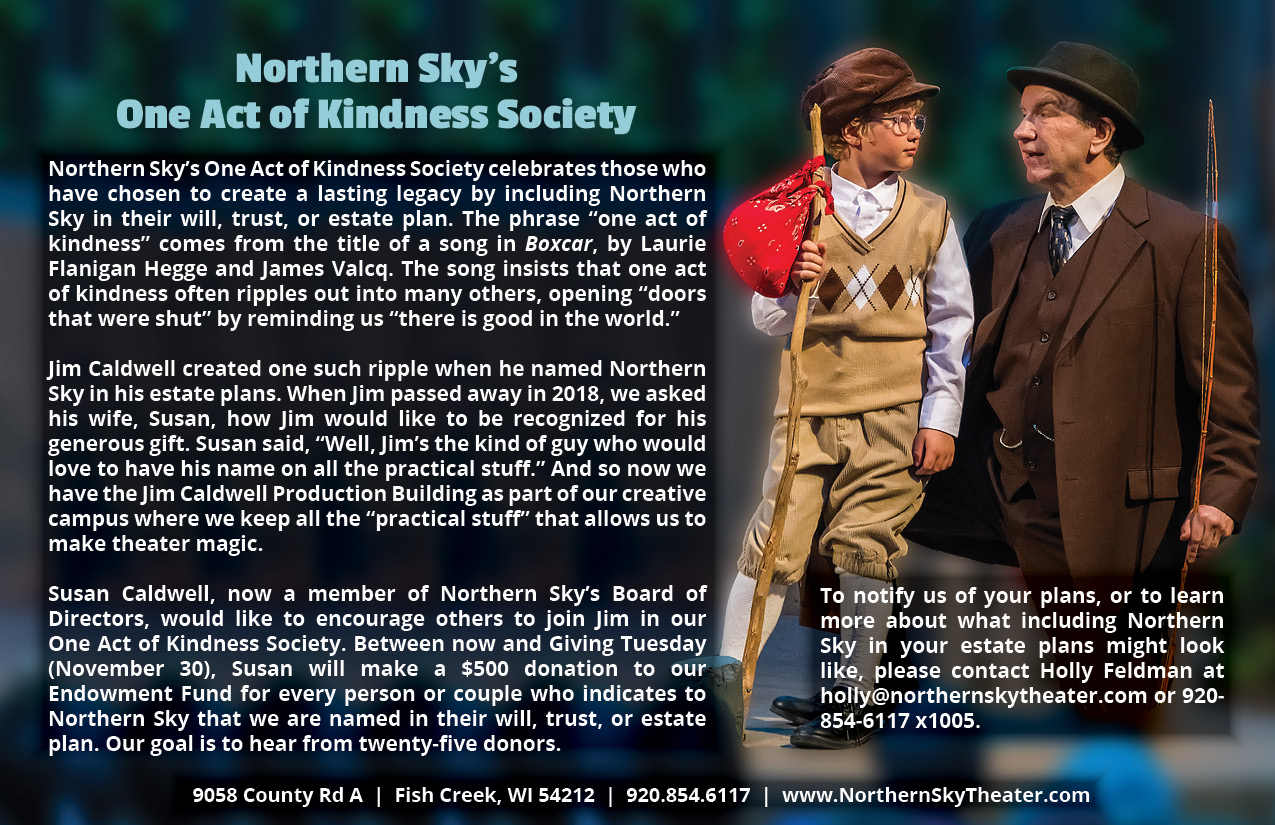 To notify us of your plans, or to learn more about what including Northern Sky in your estate plans might look like, please contact Holly Feldman at holly@northernskytheater.com or 920-854-6117 x1005.
BENEFACTOR CATEGORIES
$25,000 & Up – Belgian Angel
$10,000 to $24,999 – Victory Farmer
$5000 to $9999 – Spitfire Griller
$2500 to $4999 – Windjammer
$1000 to $2499 – Ice Fisher
$500 to $999 – Happy Lumberjack
$300 to $499 – Muskie Lover
$125 to $299 – Galactic Packer
$75 to $124 – Bone Dancer
$1 to $74 – Cheesehead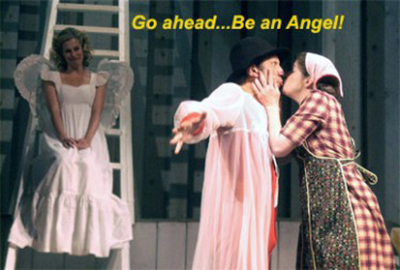 Company Match
Many companies will match their employees' donations to non-profit organizations. If your employer participates, please contact them and let them know you would like them to match your donations to Northern Sky. They will have some paperwork for you to complete.
Fred Alley New Musical Fund
Northern Sky produces original musical works. A new show can take three years of writing and workshopping before it is ready for production. Northern Sky needs to provide for our authors and directors with financial resources and time to continue bringing you the excellent shows that have become a standard for Northern Sky.
Consider a Gift of Stock or Securities
A gift of stock can provide much needed support for Northern Sky and offers you financial benefits as well. Publicly traded securities (stocks, bonds, etc.) may be transferred to Northern Sky, entitling you to an income tax reduction for the full market value of the securities. For more information on how to transfer your securities to Northern Sky, contact Dave Maier at the Northern Sky Office, (920) 633-3227.
If you have any questions, please call Holly Feldman at (920) 633-3228 or send an email to holly@northernskytheater.com.
Our Mailing Address: Northern Sky Theater, 9058 County Road A, Fish Creek, WI, 54212
Constellation Campaign
On August 30, 2019, we opened the doors to our new home. It was a dream that could only be realized with your extraordinary help, and you answered the call. We are thrilled to report that the attendance for our first-ever world premiere in the Gould Theater was record-breaking, marking the most successful fall season we've had since we did our first fall show twenty-seven years ago. It's all a testament to your loyalty and your willingness to literally follow us wherever we might happen to break out in song. Check out the link below to see our flyover, building update, join us for a tour in person, or pledge to help us finish everything we set out to do.