Make a Contribution by Mail
Make a Contribution Online
We couldn't do it without you. Look at all you're making possible…
On August 30, we opened the doors to our new home. It was a dream that could only be realized with your extraordinary help, and you answered the call. We are thrilled to report that the attendance for our first-ever world premiere in the Gould Theater was record-breaking, marking the most successful fall season we've had since we did our first fall show twenty-seven years ago. Next year we will celebrate fifty years of performances being presented at the park. It's all a testament to your loyalty and your willingness to literally follow us wherever we might happen to break out in song.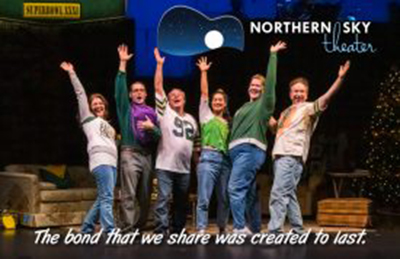 For the first twenty years, you sat among the pines when we began as Heritage Ensemble, an eager troupe of college kids presenting concerts in a modest but glorious setting in the park. You marveled as pioneers tamed the west, explorers sailed the inland seas, and whalers battled denizens of the deep.
For the past thirty years, you've bundled up on benches, under the AFT and Northern Sky banners, to laugh, cry, and applaud at now over sixty original musicals, written by us, organic in their development, reflective of this now more seasoned collection of storytellers. You sang along as lumberjacks fell in love, German POWs harvested Door County cherries, Belgians ascended to heaven, cheese factory workers won the lottery, and Sturgeon Bay women brandished the welding torch during WWII.
You ventured to various town halls and the Door Community Auditorium as we expanded our season to include more offerings to a wider audience. You delighted as guys ice fished or danced with does, presidential trivia junkies waxed nostalgic, DJs sang naked on the radio, and folks came home for the holidays.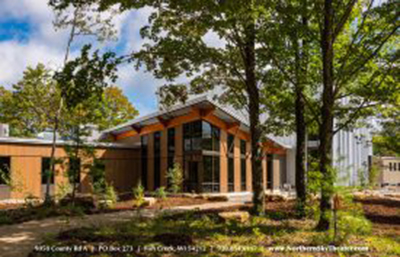 And now you've found your way to the Gould in record numbers. Amazingly, only three years ago we launched our Constellation Campaign, extending our sites to the wider galaxy that we intend to explore with you at Northern Sky. Your overwhelming support allowed us to move forward more quickly than anyone could have imagined.
The goal for our now well-established, professional troupe is to use this facility to its fullest potential, and we have a lot planned to do just that. Starting next summer we will have shows running concurrently in the park and at the Gould Theater.* This will give you more opportunities than ever before to see the shows you love. You'll be able to bring family and friends to both of our stages when they visit, giving them the full Northern Sky experience.
*Read below to learn how to be the first to know what our 2020 season will hold.
Your belief in our long-range vision has made this tremendous opportunity possible. No matter the venue, no matter the show, you wanted to be there. And we'll need that belief and your willingness to go with us as we explore this new territory.
Please consider making a year-end gift to ensure that our adventure together continues, making Northern Sky a place where something new and exciting always happens – now on two stages under one sky.
OUR HEARTFELT THANKS,
Jeffrey Herbst, Artistic Director
Dave Maier, Managing Director
Holly Feldman, Director of Development
Mailing Address: P.O. Box 273, Fish Creek, WI 54212

BENEFACTOR CATEGORIES
$25,000 & Up – Belgian Angel
$10,000 to $24,999 – Victory Farmer
$5000 to $9999 – Spitfire Griller
$2500 to $4999 – Windjammer
$1000 to $2499 – Ice Fisher
$500 to $999 – Happy Lumberjack
$300 to $499 – Muskie Lover
$125 to $299 – Galactic Packer
$75 to $124 – Bone Dancer
$1 to $74 – Cheesehead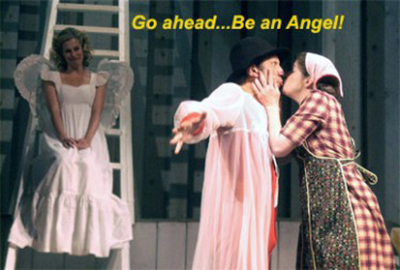 Company Match
Many companies will match their employees' donations to non-profit organizations. If your employer participates, please contact them and let them know you would like them to match your donations to Northern Sky. They will have some paperwork for you to complete.
Fred Alley New Musical Fund
Northern Sky produces original musical works. A new show can take three years of writing and workshopping before it is ready for production. Northern Sky needs to provide for our authors and directors with financial resources and time to continue bringing you the excellent shows that have become a standard for Northern Sky.
Consider a Gift of Stock or Securities
A gift of stock can provide much needed support for Northern Sky and offers you financial benefits as well. Publicly traded securities (stocks, bonds, etc.) may be transferred to Northern Sky, entitling you to an income tax reduction for the full market value of the securities. For more information on how to transfer your securities to Northern Sky, contact Dave Maier at the Northern Sky Office, (920) 633-3227.
If you have any questions, please call Holly Feldman at (920) 633-3228 or send an email to holly@northernskytheater.com.
Our Mailing Address: Northern Sky Theater, PO Box 273, Fish Creek, WI, 54212