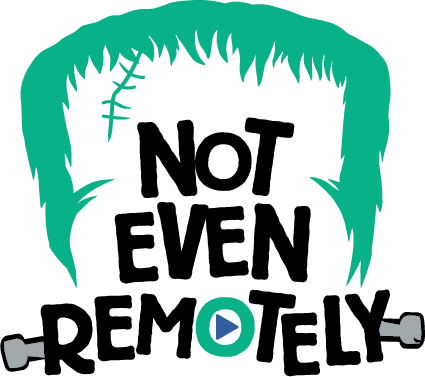 Book, Music & Lyrics by
Richard Carsey & Stephen Kovacs
Story by
Richard Carsey, Corrie Beula Kovacs & Stephen Kovacs
2021 World Premiere
Two actors. One monster. No stage.
Together, Chris and Sam have been planning a lavish musical version of Frankenstein. But when rehearsals are suddenly shut down, Chris and Sam are forced to perform a two-person, online version of the show instead. A madcap romp of a story about two actors whose visions of musical grandeur are hilariously thwarted by reality.
This show was written to be performed either on live on Zoom or in person, so we're doing both!
We're opening the season with a virtual performance of "Not Even Remotely" on May 30-it'll be the crown jewel of this year's virtual Raise the Curtain: Take a Leap celebration. That whole week, in fact, we'll be doing the show virtually May 31 – June 3. And then, in July? You'll be able to come see it *in person* in the Gould Theater! Either way you see it, it will be performed LIVE!
Showing: July 12 – August 7, 2021
Monday – Saturday at 7:30 PM
At the Gould Theater
Photos
Video
About the Writers
Cast of Characters
About the Writers
RICHARD CARSEY (Composer-Playwright–Lyricist)
Richard Carsey enjoys a diverse international career as music director, conductor, pianist, actor
and writer. He is currently Conductor for DISNEY ON CLASSIC, a concert tour featuring eight
American singers and The Orchestra Japan, presenting more than 60 concerts a year in major
cities throughout Japan. In February 2020, he conducted the score to the 1991 animated film
classic BEAUTY AND THE BEAST in concert at the 10,000-seat Yokohama Arena, featuring a
60-piece symphony orchestra accompanying Japanese film stars performing the songs live to
the film.
He is a Conductor for the longest-running musical in Broadway history, THE PHANTOM OF
THE OPERA, as well as the 2018 revival of CAROUSEL featuring Joshua Henry, Jessie
Mueller, and Renée Fleming. National tours include Cameron Mackintosh's new production of
THE PHANTOM OF THE OPERA, and the revival of LA CAGE AUX FOLLES starring George
Hamilton. Also on Broadway, he was Music Supervisor of THE HOUSE OF BLUE LEAVES
starring Ben Stiller and Edie Falco, and Musical Director for Joshua Schmidt's musical A
MINISTER'S WIFE at Lincoln Center Theater.
Richard enjoyed a long association with the Skylight Opera Theatre in Milwaukee, WI as
Principal Conductor, and for nine seasons was Artistic Director of the company. As conductor,
he led more than 80 productions at the Skylight, ranging from opera and operetta to musicals.
Highlights include the world premiere and television broadcast of Richard Wargo's opera
BALLYMORE; a PBS broadcast of THE MIKADO; and the world premiere of the opera THE
RIVALS by Kirke Mechem. He has provided musical direction for regional productions
throughout the U.S. including the Marriott Theater (Chicago), Utah Shakespeare Festival,
Florida State Opera, and the Guthrie Theater in Minneapolis. Internationally, he has performed
in such exotic locales as Lima, Athens, Barcelona, Islamabad, and Kuwait.
Richard has been guest conductor with the symphony orchestras of Kansas City, Indianapolis,
Hartford, Sacramento, and St. Louis, among others. He is a frequent conductor for Windborne
Music, which presents classic rock-and-roll with orchestra.
As an actor, he has appeared in over 400 performances of the play 2 PIANOS 4 HANDS at
regional theaters across the US and Canada, including Dallas Theater Center, Actor's Theater
of Louisville, The Globe (Saskatchewan), Laguna Beach Playhouse, and Hartford Stage
(Connecticut Critic's Circle Award). Other acting highlights include THE BOYS IN THE BAND
(Harold); TWELFTH NIGHT (Malvolio); SOUVENIR (Cosme) and OLD WICKED SONGS
(Mashkin).
STEPHEN KOVACS (Composer-Playwright–Lyricist)
Stephen Kovacs is thrilled for the world premiere of Not Even Remotely. A former music teacher, Stephen co-owns and operates Show How, LLC with his wife, Corrie. Together they provide performing arts training and services in the Fox Cities. Previous credits include co-author, composer and lyricist of 2019's NST world premiere We Like It Where?, Play-by-Play Theatre's production of Baby: The Musical (Nick), Guys on Ice (Marvin) and The 25th Annual Putnam County Spelling Bee (Panch). Thanks to Corrie for her support, Molly and Jeff for their guidance, Alex, Doug and Nadja for their enthusiasm, and Richard for sharing your creative gifts.